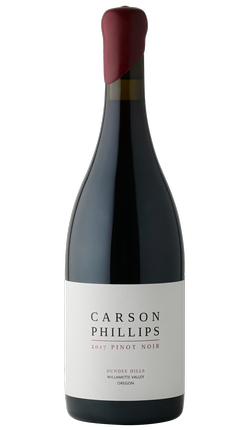 2017 Dundee Hills Pinot Noir
This Pinot Noir combines our family's Estate Vineyard and the historic Maresh Vineyard, conveying an authentic sense of the Dundee Hills.
Appellation - Dundee Hills
Soil - Volcanic
Exposure - South
Elevation - 410 to 700 feet
Plant Date - 1983 - 2000
Harvest Date - 9/27/17 - 10/02/17
Farming - Sustainable, Dry Farmed
The Vineyards
Carson Phillips Estate is our home vineyard, tucked away amongst the fir trees in the Dundee Hills. The vineyard was planted in 2000 on an ideally suited 40 acre farm with deep Jory volcanic soil. We grow wines with the closest attention to detail, using sustainable and organic practices without irrigation.
Maresh Vineyard is the fifth oldest vineyard in Oregon having been planted starting in 1970. Today, Maresh Vineyard is a reference point for Oregon Pinot Noir from the Dundee Hills.
2017 Vintage
A cold, snowy winter led into a wet spring and warm, dry growing season with good fruit development. Record-breaking heat spikes and regional wildfires burned throughout summer. End of season rain brought relief from the heat.